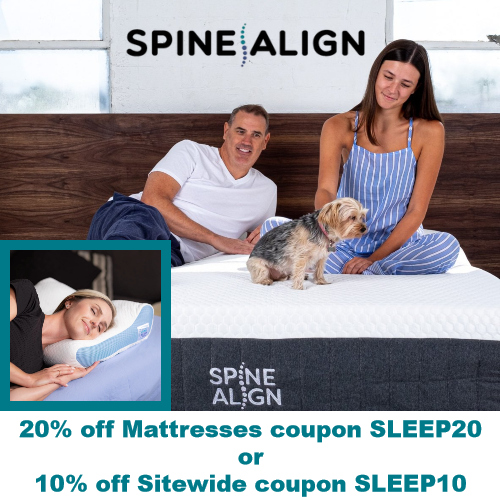 SpineAlign manufactures luxury hybrid mattresses and contour pillows that support proper posture for better sleep. Their one-of-a-kind sleep system was created by Dr. Jason Loth, who works with postural abnormalities on a regular basis. He specifically engineered these products to put your body in its most natural, relaxed position to allow for maximum recovery and energy regeneration.
Poor posture can lead to irreversible damage to your body. Most people sleep with incorrect posture, which causes stress on the neck and back and can lead to many problems, such as neck & back pain, headaches, muscle tension, TMJ pain, tingling in the arms and hands, snoring, insomnia, disc stress, osteoarthritis, joint pain, and more. SpineAlign's sleep system can help you prevent these problems and give you a great night's sleep.
Dr. Loth's Spine Align Pillow is a revolutionary new contour pillow that is customizable to fit your correct posture in both back and side sleeping positions. Strategically placed zippers on the back of the pillow allow you to add or remove their proprietary blend of CertiPUR-US® fill to customize it to your exact fit. This pillow promotes proper alignment, sleeps cool through the night, and works for both side & back sleepers.
Spine Align's Luxury Hybrid Mattress offers a fresh take on extravagance without the excessive costs that are typically associated with luxury mattresses. It is specifically designed to help you get the sleep you deserve, while keeping you cool and in the correct sleeping posture.
They use the highest quality materials to purposefully engineer a superior sleep surface. Premium, copper-laced, cooling foams and cutting-edge coil technology provide optimal comfort and unparalleled support. Their CertiPUR-US® breathable foams divert heat away from your body to maintain a comfortable temperature throughout the night. The responsive design adjusts to your body as you move, giving you exceptional comfort and the support your body needs. The Luxury Hybrid is available in three firmness levels to suit every need for any style of sleeper.
See how proper sleep support can change your life risk-free – SpineAlign offers a 100-night sleep trial for their mattress and a 45-night sleep trial for their pillow.
SpineAlign also offers top quality sheets, mattress protectors, and mattress foundations & platforms.
Get 20% off mattresses at SpineAlign using coupon SLEEP20 or get 10% off everything else using coupon SLEEP10. Shipping is Free on all orders in the lower 48 states. SpineAlign mattresses come with 10-year warranty and SpineAlign pillows come with a 5-year warranty. Limit 1 coupon per order.
17