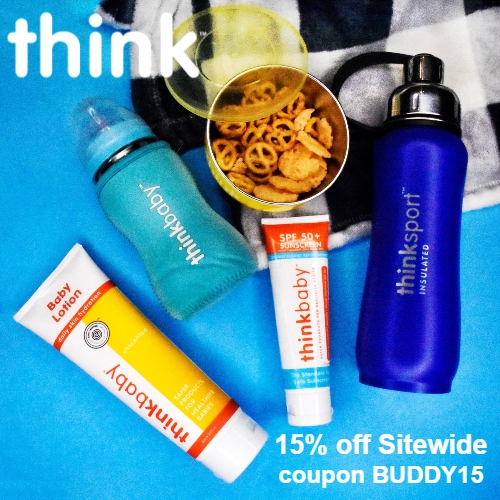 Think offers safe, functional, and sustainable products for your whole family. Their product line includes sun care, hair care, and body care products for babies, kids, and adults, as well as food and beverage containers and more.
With growing concern over chemicals in common household products leaching into our bodies, Think's founder, Kevin Brodwick brought his interest in health and preventative medicine and his background in biotechnology together to form a company whose sole purpose is to create alternative products for little ones to adults.
Their products are not only safe, they are extremely functional as well. They are continually looking for ways to innovate products. As an example, Think pioneered a baby bottle that can transition to a sippy cup and then to a straw bottle. This not only saves parents money, but also reduces environmental impact.
Think uses only the best materials to produce products that have very long lifecycles and can be passed along to the next little one. They also select materials that can be recycled, including their packaging. Think has never used plastic packaging! They are committed reducing the impact of consumer products on the environment – Reduce. Reuse. Recycle.
Get 15% off Sitewide at Think using coupon BUDDY15. Orders over $25 ship Free.
Think is all about giving back! Their ThinkSocial program is committed to animal, environmental, and scientific research with the hopes of making our world healthier, safer, and less toxic.
6