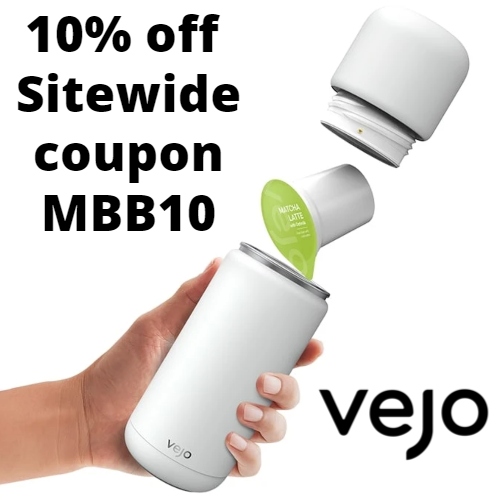 Vejo is the world's first pod-based blender. This smart, rechargeable & portable blender makes organic smoothies, immune boosters, and more in just 30 seconds. The Vejo Blender is designed to give you healthy nutrition on the go. It is lightweight, durable, easy to use, and TSA approved, so you can keep your healthy habits going no matter where you are! Simply fill your Vejo Blender with your liquid of choice, pop a pod in, twist, and enjoy!
Vejo's mouthwatering pod blends are made with organic ingredients and have science backed benefits. Vejo uses freeze dried produce that is harvested at peak ripeness to maintain essential nutrients, delicious flavor, and optimum freshness. Formulated with the guidance of doctors and nutritionists, each Vejo Blend is nutrient rich and supported by extensive research & testing to ensure maximum health benefits.
Vejo offers a wide range of pod blends with many health benefits, including pre & post-workout blends, protein blends, antioxidant rich coffee & tea blends, immune boosters, beauty blends with collagen, mood boosters, sleep support, and overall wellness & nutrition. They come in great flavors like Pina Strawberry, Matcha Latte, Strawberry Banana, Spiced Chocolate, Vanilla, Banana Almond, and more.
Vejo Blender Subscription Starter Kits are the perfect introduction to Vejo. You'll get the Vejo Blender in the color of your choice plus 30 pod blends. You can choose one of the pre-selected pod kits or customize your kit with 30 blends of your choice. Each month, your pods will be delivered straight to your door at a discounted rate of 25% off. You can adjust your order, pause, or cancel anytime.
Get 10% off Sitewide at Vejo using coupon MBB10. Coupon is valid on one-time purchases and will also apply to the first shipment on a subscription order. Shipping is Free on one-time orders of $150 or more and all subscription orders ship Free.
All Starter Kits come with a satisfaction guarantee. If for any reason you are not satisfied, Vejo will give you a full refund within 30 days of your initial purchase date.
2