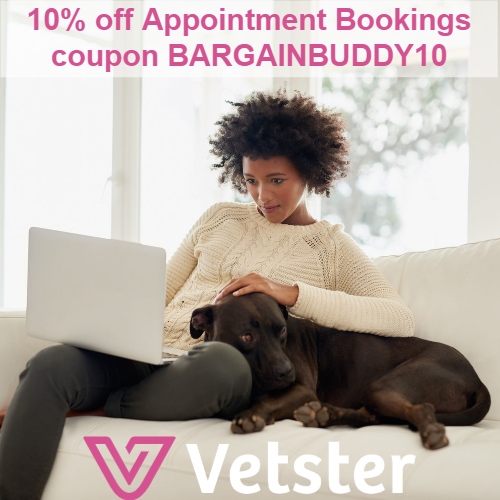 Visiting the vet can be a pain. It's expensive, it can take days to get in, you have to take time off work, spend precious time in the waiting room or in your car, and most animals get major anxiety during vet visits – especially now when you can't even go in with your pets. Vetster has a solution for that! Vetster provides pet owners access to quality pet health care at an affordable price, anytime, anywhere through online video chat and voice enabled appointments.
Using Vetster's veterinary telemedicine saves you time and money, while keeping you and your pets more comfortable at home. It's as simple as a few clicks. All you need is a computer, tablet, or mobile device and you can connect with qualified veterinarians and registered veterinary technicians.
They have thousands of licensed veterinary professionals in the U.S. and Canada ready to provide online pet care, so you can get an appointment anytime you need it. And they are available 24/7, which helps you avoid unnecessary trips to an after hours clinic. Vetster is like having your own personal on-call vet!
Vetster is there to help from your initial concern to diagnosis and product delivery. They ensure you get whatever your pet needs delivered to your door in two days or less.
Get 10% off your first online vet visit at Vetster using coupon BARGAINBUDDY10.
More about veterinary telemedicine :
Veterinary telemedicine is the provision of veterinary medicine online, whether through video, voice or text chat. While it can't replace the need to see your veterinarian in-person, it can provide peace of mind from the comfort of your own home. Telemedicine offers an accessible, affordable way to "see" the vet anytime day or night in the most efficient way. It is great for things like behavioral concerns, aggression, litter box issues, skin issues, such as rashes, itchiness and redness, minor cuts and wounds, dietary concerns, weight loss, nutritional advice, gastrointestinal, vomiting and diarrhea, puppy and kitten wellness and training, and general pet health and wellness concerns.
9