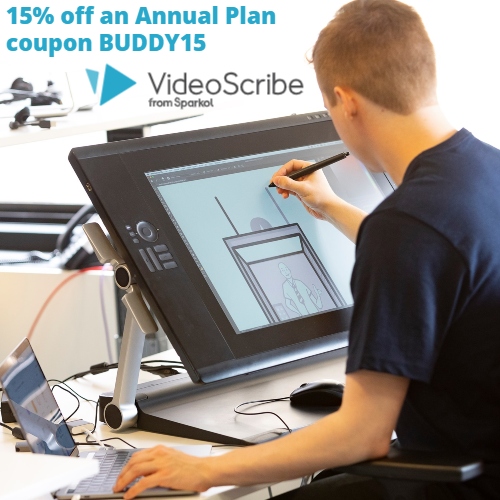 VideoScribe helps you turn your creative ideas into show-stopping animated realities – No animation, design, or video editing skills needed!
Their easy drag & drop video maker is perfect for everyone from beginners to seasoned professionals. Simply search their image library, drag & drop across the canvas and use their handy editing tools to create a professional animated video in minutes. They have 3 animation styles to choose from, including:
Draw – Choose from a library of hands, pens, pencils, and paint brushes, or go hands-free to bring your story to life.
Fade In – One of the most versatile animation styles, it gives you creative freedom to make things appear at pace or with ease.
Morph – This unique animation style takes time to master, but once you're there, Morph can completely transform your video creations.
A VideoScribe subscription is great for individuals, students, teachers, YouTubers, marketers, and all types of corporate teams. You can create engaging advertisements, whiteboard animations, instructional videos, event videos, presentation videos, and much more.
A subscription gives you browser & desktop access to their extensive library of professional-quality animated video templates for countless topics & occasions with all branding removed – meaning no watermarks!
You'll also get unlimited image & GIF uploads, a large royalty-free music collection, audio/voice-over recording & import, multiple export options, a range of diverse drawing hands with the option to upload your own.
Get 15% off an annual plan at VideoScribe using coupon BUDDY15. Annual Plans are already 64% off the standard price of a monthly plan before coupon!
2