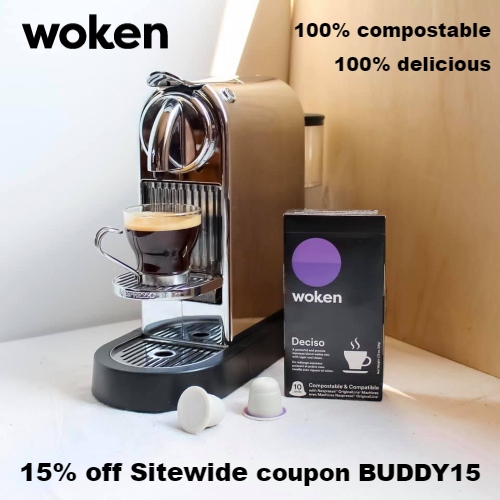 We all love our daily espresso drinks, but between disposable cups and plastic pods, single serve drinks produce tons of waste! Little things add up and landfills overflow. Plastic and aluminum never go away, even when we recycle it. Woken Coffee is doing their part to change that by offering a high-quality, convenient coffee pod that is 100% compostable and 100% plastic free. It might sound like a small thing, but the small things add up!
Woken's 100% compostable pods are compatible with Nespresso® OriginalLine machines AND the environment. They are filled with wonderful blends varying in intensity, from South America to India. Their Arabic and Robusta beans are roasted and ground lovingly in Italy, giving you the same taste and quality as a real espresso from an Italian café.
After you've enjoyed your delicious espresso, just toss the pods in with your food waste and roughage from your lawn and garden to send to your municipal composting facility. In 90 days, your used pods will biodegrade back into the soil.
FUN FACT – Woken Coffee Pods take less time to biodegrade than a banana peel!
Get 15% off Sitewide at Woken Coffee using coupon BUDDY15. Shipping is $5 or Free on orders of $30 or more.
New to composting? Many cities have composting programs and pickups or you can take it to a composting facility. Click here to see if there is a facility near you.

3