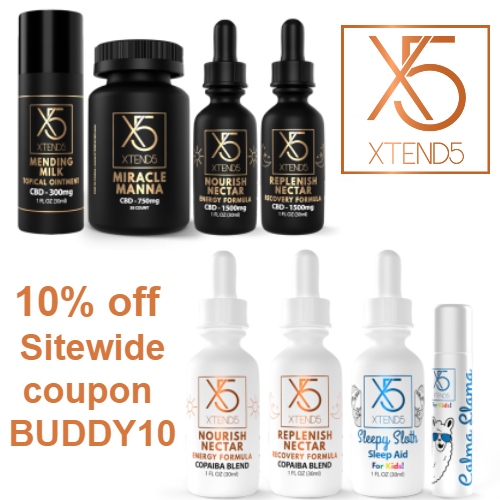 XTEND5's mission is to enrich lives and bring healing. They've taken some of nature's most effective ancient ingredients and combined them to target some of life's most common and problematic symptoms. Simply restoring balance and repairing natural bodily functions can have an enormous impact on the way the mind and body feel.
XTEND5 knows the importance of a good night's sleep, a pain-free day, or the peace needed in stressful times. Their blends are specifically designed to support the relief of symptoms like soreness, loss of energy, sleeplessness, pain, mood, and stress.
They offer CBD & CBA oils, topicals, capsules, and CBA children's sleep aid & calming roll on. Their CBD & CBA products are mixed with ancient healing ingredients like:
Cordyceps for anti-aging, stamina, energy, & detox
Frankincense for stress, inflammation, & absorption
Turmeric for digestion, inflammation, & antiviral effects
Reishi for immunity support & fatigue
Get 10% off Sitewide at XTEND5 using coupon BUDDY10. All products come with a 30-day risk-free satisfaction guarantee. Shipping is a flat rate of $3.99 or Free on orders over $49.
4