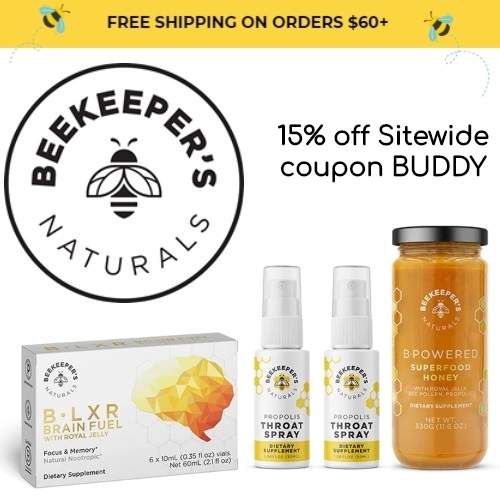 Beekeeper's Naturals is reinventing the conventional medicine cabinet with clean remedies that actually work. Experience hive powered health with their natural remedies and join them on their mission to safeguard the future of the bees.
Propolis Throat Spray has incredible germ fighting properties and even contains over 300 beneficial vitamins, minerals, and compounds—making it nature's ultimate defender.
Propolis Cough Syrup is a clean cough syrup, with nature's most powerful science-backed defenders to help you bounce back and recover.
3-in-1 Complete Gut Health delivers pre-, pro-, and postbiotics to support the growth of good gut bacteria, increase microbiome diversity, and strengthen the gut lining for whole-body health.
Royal Jelly Brain Fuel is formulated to help you power through brain fog and find your flow with potent, plant-based adaptogens.
Beekeepers Natural's Bundles are a great way to try several of their products!
Get 15% off Sitewide at Beekeepers Natural's using coupon BUDDY. Shipping is Free on orders over $60. All products come with a no questions asked 100% money-back guarantee.
11