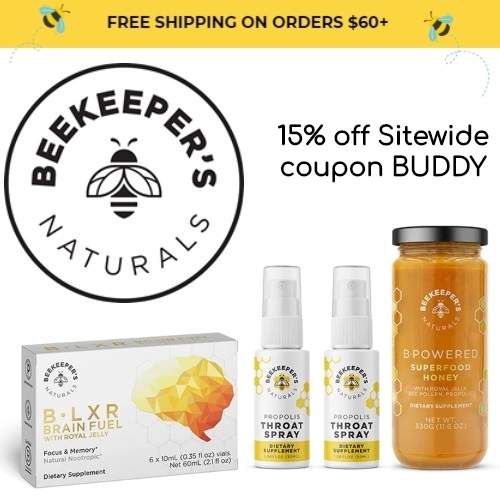 Beekeeper's Naturals is reinventing the conventional medicine cabinet with clean remedies that actually work. Experience hive powered health with their natural remedies and join them on their mission to safeguard the future of the bees.
Propolis Throat Spray has incredible germ fighting properties and even contains over 300 beneficial vitamins, minerals, and compounds—making it nature's ultimate defender.
B.Soothed Cough Syrup is your clean cough syrup, with nature's most powerful science-backed defenders to help you bounce back and recover.
B.LXR is a caffeine-free, nootropic fuel your brain craves to fight brain fog, hack productivity, and naturally support memory, focus, and energy.
B.Chill is nature's dose of calm. It combines raw honey and hemp with 0% THC. Unlike other relaxation alternatives, you can sleep well knowing that there are no worrisome side effects.
Beekeepers Natural's Bundles are a great way to try several of their products!
Get 15% off Sitewide at Beekeepers Natural's using coupon BUDDY. Shipping is Free on orders over $60. All products come with a no questions asked 100% money-back guarantee.
9