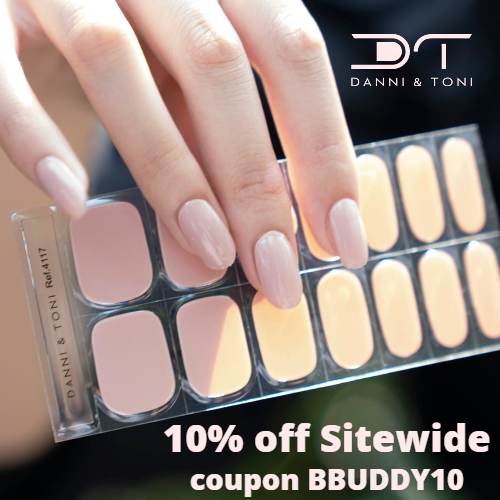 Danni & Toni offers top quality semi-cured gel nail strips that provide a convenient, stylish, and less-toxic option for beautiful nails, without sacrificing quality!
Their salon-quality nail stickers are long-lasting, safe, and just as vivid and strong as the salon-fabricated ones. Best of all, Danni & Toni's innovative 3-layer fabrication will never harm your natural nails! The ultra-shine top gel gives you a glossy, flawless finish while the medical adhesive bandage layer provides a strong, yet safe & breathable hold. They come in a wide range of colors and designs so there is something for every taste & style.
Application is a breeze, making it super easy to change your nails whenever you want to! Simply choose the size that fits, firmly press onto clean nails with your finger or a wooden nail stick, trim the excess with scissors or a nail file, and cure for 60 seconds under a UV LED lamp. Removal is just as easy – just use a wooden nail stick to peel them off and clean off any leftover residue with nail polish remover.
Get 10% off Sitewide at Danni & Toni using coupon BBUDDY10. Shipping is Free on orders of $25 or more.
3