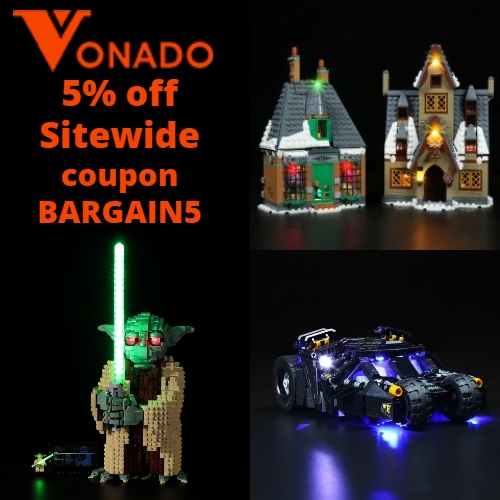 Vonado specializes in LED lighting kits that allow you to customize & enhance your LEGO displays and make them shine!
Their handmade lighting kits are specially designed to fit a range of LEGO sets. They are easy to install and add a super cool touch to your favorite displays – You can make Yoda's light saber glow, add headlights to vehicles, light up Hogwarts Castle, and more!
Vonado also offers parts & bricks for you to make your own custom creations, as well as model kits, MOC sets, and DIY pixel art that features characters & scenes from popular movies like Star Wars, Harry Potter, and Marvel, and other themes like architecture, pirates, animals, vehicles, and more.
Vonado light kits & other products make great gifts for any LEGO fan!
Get 5% off Sitewide at Vonado using coupon BARGAIN5.
Be sure to check out their selection of refurbished sets. They are up to 50% off before coupon and they are strictly inspected to ensure they are in top condition.
7